---
Reshaping Reality;
Are
NCA&T
Chancellors & Board of Trustees Transform A&T into the Help
The Board of Trustees voted to approve Annexation of 116 acres of NCA&T Farm into the City limits. City ordnances may prevent raising farm animals on annexed Farm property requiring elimination or relocation of Poultry and other Building at NC A&T expense. Blue Area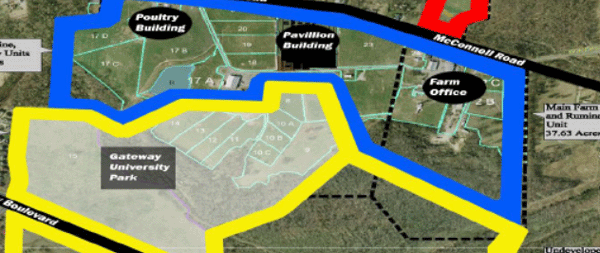 WHEREAS, North Carolina Agricultural and Technical State University's proposed site for the new Pavilion is adjacent to the farm areas located within the city limits;
WHEREAS, the Greensboro city requirement is that all new original requests for water and sewer from properties located outside of the city limits require annexation into the city as part of their Comprehensive 2025 plan; and
WHEREAS North Carolina Agricultural & Technical State University is requesting approval for the City of Greensboro to rezone 116 acres and annex this portion of the farm for the purposes of obtaining water and sewer services.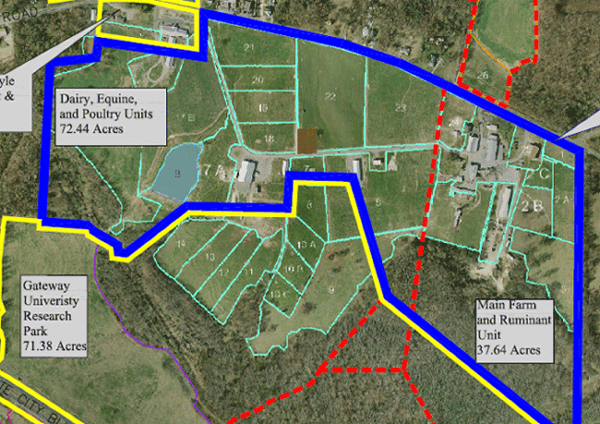 Pursuant Public Record Request NC A&T has not produced alleged section of Greensboro City Comprehensive Plan consistent with Board of Trustee resolution.
Unambiguous Greensboro City plan to extend water and sewage services to the Proposed Mega Site in Randolph County which certainty will not be annexed into Greensboro City.
AN ORDINANCE ANNEXING TERRITORY TO THE CORPORATE LIMITS
(PROPERTY LOCATED AT 2900, 2910, 2924 AN
Section 3. The owner shall be fully responsible for extending water and sewer service to the property at said owner's expense.
Section 5. From and after December 19, 2017, the liability for municipal taxes for the 2017-2018 fiscal year shall be prorated on the basis of 6/12 of the total amount of taxes that would be due for the entire fiscal year. The due date for prorated municipal taxes shall be September 1, 2018. Municipal ad valorem taxes for the 2018-2019 fiscal year and thereafter shall be due.
Stealing A&T Praise

: "The Joint School for Nanoscience and Nanoengineering….. built on the major nano-technology research activity that had been established at nearby Wake Forest and at NCA&T"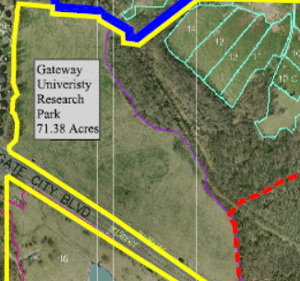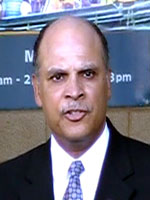 "This tract of land is part of the Seventy Five acres we carved out for Gateway University Research Park." said Chancellor Martin before the Special Committee of the Board of Trustees to evaluate the Florida Street Extension April 5, 2013. NC We gave up 75 acres of the Farm. Chancellor Martin [North Carolina A&T State University Staff Senate Full Body Meeting Minutes Thursday, September 24, 2009 Video

Recommended by Chancellors Renick and Sullivan, NC A&T and UNC-G Board of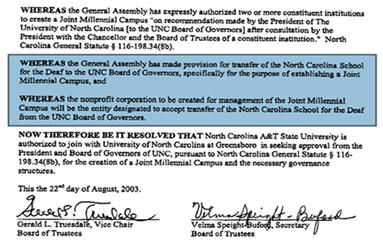 Trustees duplicate Resolutions: In Support of The Creation of a Joint Millennial Campus between NC A&T and UNCG, dated Aug. 22, 2003

,

and Aug. 28, 2003 , calling for seeking designation of Joint Millennial Campus in terms of the Central North Carolina School of the Deaf real estate, transferred to UNC Board of Governors for the purpose of establishing a Joint Millennial Campus. Universities' resolution seek designation of a Joint Millennial without a syllable pertaining to a 75-acre parcel of NCA&T farmland, statutory foreclosed Phillips alleged NCA&T/UNCG Joint Millennial Campus. And NC Chancellor Harold Martin "This tract of land is part of the Seventy Five acres we carved out for Gateway University Research Park." NC A&T Resolution maybe bogus.