N.C. A&T students co-host hundreds seeking agricultural careers


More than 1,200 students, faculty and industry leaders from across the country are expected for the Minorities in Agriculture, Natural Resources and Related Sciences (MANRRS) conference, Thursday through Saturday at the Koury Convention Center.

"The primary benefit for students is that they learn to market themselves, to network, showcase their talents and build their confidence in their discipline," says Radiah Minor, Ph.D., associate professor in the Department of Animal Sciences who is the lead coordinator for MANRRS at A&T. "The conference also provides internship opportunities, as well as mock interviews where students can prepare for entry into the agricultural workforce."
CAES Professor Awarded UNC System's Board of Governors' Excellence in Teaching Honor
Jordan Howse; Photo courtesy NC A&T
EAST GREENSBORO, N.C. (April 8, 2020) ­— For more than a decade, Jenora Waterman, Ph.D., has led students and research at North Carolina Agricultural and Technical State University in animal science, specifically functional genomics.

Each year, a leading faculty member is chosen from each of the constituent institutions of the UNC System to receive the University of North Carolina System's Board of Governors (BOG) Award for Excellence in Teaching. This year, Waterman, an associate professor of functional genomics in the College of Agriculture and Environmental Sciences (CAES), is N.C. A&T's honoree.

"Dr. Waterman is an excellent professor who shows commitment to the excellence of teaching her students and in researching how agricultural practices effect the animals and humans involved," said N.C. A&T Provost and Executive Vice Chancellor for Academic Affairs Beryl McEwen. "She's a valuable resource for students and has remained committed to helping them reach their full potential in her courses, lab and the workforce."
"Dr. Waterman is an excellent professor who shows commitment to the excellence of teaching her students and in researching how agricultural practices effect the animals and humans involved," said N.C. A&T Provost and Executive Vice Chancellor for Academic Affairs Beryl McEwen. "She's a valuable resource for students and has remained committed to helping them reach their full potential in her courses, lab and the workforce."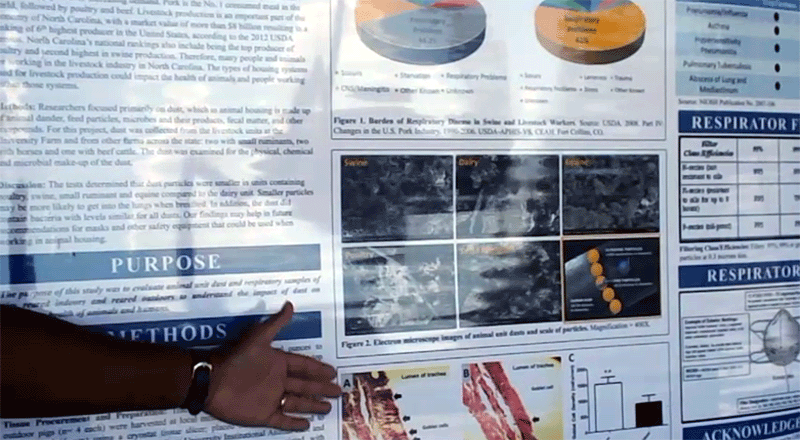 Waterman's teaching style is one that engages students and teaches them to be thought leaders while inspiring students to become life-long learners. Video , FP

"My goal as an effective teacher is to develop two of the most essential skills needed in today's global workspace – good communication and critical thinking skills," she said.

Her course content and assessments are hinged on building these two skills. For example, her students create original podcasts, participate in Socratic debates, and analyze relevant non-fiction books to critically analyze, communicate their thoughts, and apply information they learn.

"Dedicated, demanding, enthusiastic and caring, are the words I would use to describe her as a teacher," said Mohamed Ahmedna, dean of CAES. "When she speaks her enthusiasm for the students and the topic of discussion are both palpable."

A faculty member since 2008, Waterman earned her bachelor's and master's degrees in biology at Bennett College and North Carolina A&T, respectively. She earned her doctorate degree in functional genomics at North Carolina State University.

Each Excellence in Teaching awardees will receive a commemorative bronze medallion and a $12,500 cash prize. A BOG member will present the award to Waterman during the rescheduled spring commencement ceremony.


About North Carolina A&T State University
North Carolina Agricultural and Technical State University is the nation's largest historically black university, ranked number one among public HBCUs by U.S. News & World Report. It is a land-grant, doctoral high-research classified university by the Carnegie Foundation and constituent member of the University of North Carolina system. A&T is known for its leadership in producing graduates in engineering, agriculture and other STEM fields. The university was founded in 1891 and is located in Greensboro, North Carolina.