NCCU Student-Athlete of the Month: Christine Alcox

Kevin Buczek Photo courtesy NCCU

DURHAM, N.C. – North Carolina Central University volleyball outside hitter Christine Alcox has been named the NCCU Student-Athlete of the Month for September 2019 in recognition of her outstanding accomplishments on the court and in the classroom.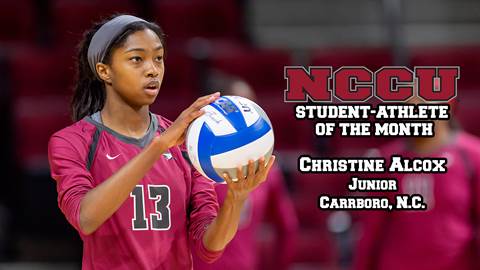 Alcox averaged a team-best 2.62 kills per set in 11 matches during the month of September. She posted a .172 hitting percentage with 97 kills, 30 digs, 11 blocks, five assists and two aces over that span.

The Carrboro, North Carolina, product tallied 15 kills in a neutral site match against Presbyterian College on her way to being named to the Davidson Invitational All-Tournament Team. Alcox added two more double-digit kill performances in back-to-back wins against The Citadel (14 kills) and South Carolina State University (11 kills) to end the first full month of the season.

Alcox is a kinesiology major with a concentration in fitness and wellness. Alcox maintains an overall grade point average (GPA) of 3.74. She is a MEAC All-Academic Team honoree who received the NCCU Volleyball Debra Saunders-White Leadership Award in 2018-19 and the NCCU Volleyball Players' Choice Award in 2017-18.

The junior is the vice president of the Student-Athlete Advisory Committee (SAAC).

Alcox is leaning towards studying occupational therapy in graduate school after she graduates NCCU.

For a complete list of award winners, visit NCCUEaglePride.com
Eagle Cheerleader Crowned Miss NCCU

Written by Jailen Leach, NCCU Sports Information Intern

DURHAM, N.C. – North Carolina Central University cheerleader Ti'Eja Woodson was crowned Miss NCCU for the 2019-20 school year during the Miss and Mister NCCU Coronation and Ball on Monday night.

Miss NCCU is a position within the Student Government Association (SGA), an organization that creates and hosts events and service projects. Woodson will be the third cheerleader and the fourth overall student-athlete to serve as Miss NCCU since 2008.

A senior business major from Richmond, Virginia, Woodson spoke about how her decision to pursue the Miss NCCU crown was spontaneous.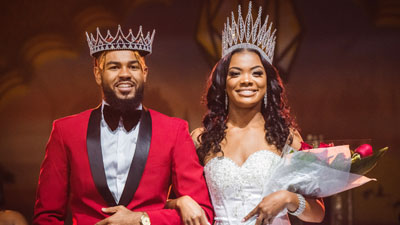 "I know a lot of girls come to school wishing to be the next Miss NCCU," Woodson said. "However, that was never an intention of mine. It just happened."

Woodson also mentions that some of her friends and teammates influenced her decision as well.

"Many of my friends said they could see me in the position," Woodson said. "I thought about it and decided to give it a try."

Head cheerleading coach LuAnn Edmonds-Harris gave high praise to the new Miss NCCU.

"She has many qualities that will help her be successful in her new role," Edmonds-Harris said. "She is organized, persistent, and very good at meeting and dialoguing with new people."

Woodson talked about her plans for her role.

"As Miss NCCU, I want to bring awareness to the campus of individuality and diversity," Woodson said.

Edmonds-Harris also spoke on some of the things that Woodson has done as an NCCU cheerleader that could benefit her.

"We prepare them for leadership starting their freshman year, providing them opportunities to serve the community," Edmonds-Harris said. "We do encourage our student-athletes to step outside ofthe box."

Woodson is a member of Delta Sigma Theta Sorority, Incorporated, and has done multiple community service projects with the organization.

Woodson mentioned how her new position will not change her mindset.

"I will continue to be myself, but I do know my position," Woodson said. "As well as knowing there is a time and place for everything."

Edmonds-Harris also spoke on what it means to have one of her student-athletes be in a position of office at the university.

"It makes a statement to the student population, faculty, staff and alumni, that our cheerleading program has high morals and ethical values," Edmonds-Harris said. "Cheer is such a small piece of the pie."