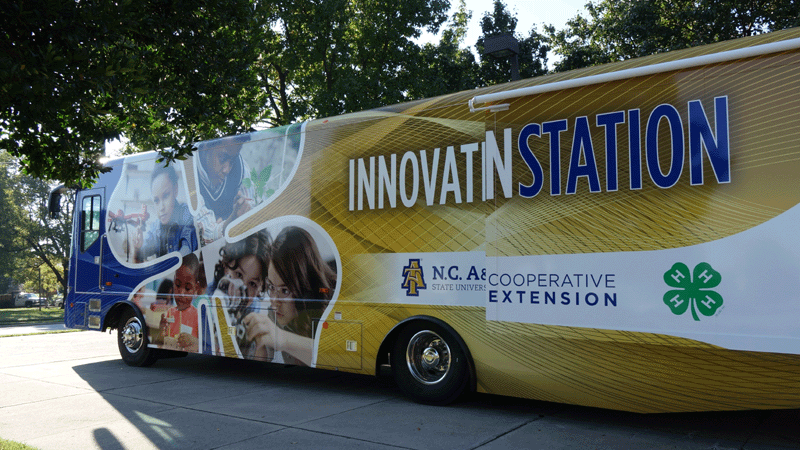 Cooperative Extension at N.C. A&T to Unveil Innovation Station
Joy Cook

East Greensboro, N.C. (Sept. 18, 2018) – Cooperative Extension at North Carolina Agricultural and Technical State University will unveil the newly constructed Innovation Station, at 9:30 a.m., Thursday, Oct. 4, on the Webb Hall front lawn.

The 41-feet long, 8.5 feet wide mobile science, technology, engineering and mathematics (STEM) lab and makerspace was designed by Cooperative Extension with the mission to encourage STEM education to young students through the use of active making, tinkering, and engineering. Along with its collaborative workspaces, the Innovation Station is equipped with a variety of technology such as laptops, iPads, 3D printers, laser cutters, and a 20-foot awning interactive monitor.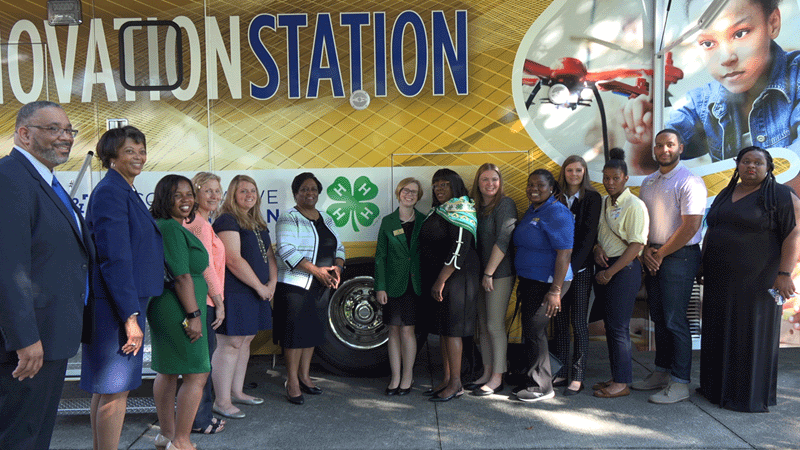 The mobile lab will serve schools and community-based organizations by offering technological resources and STEM education programs to students K-12. Outfitted with 15 interior workstations and one wheelchair accessible desk, the bus will allow participants to develop skills in robotics, 3D modeling and printing, video game design, computer software programming, hardware engineering, renewable energy, micro:bit block-coding, structural engineering and magnetic levitation.

Upon its official release, educators and non-profit organizations based in North Carolina will have the opportunity to register and participate in different educational programs featuring the Innovation Station, free of charge. All reservations for the Innovation Station will be accommodated on a first come, first served basis and need to be arranged two weeks prior to the session date.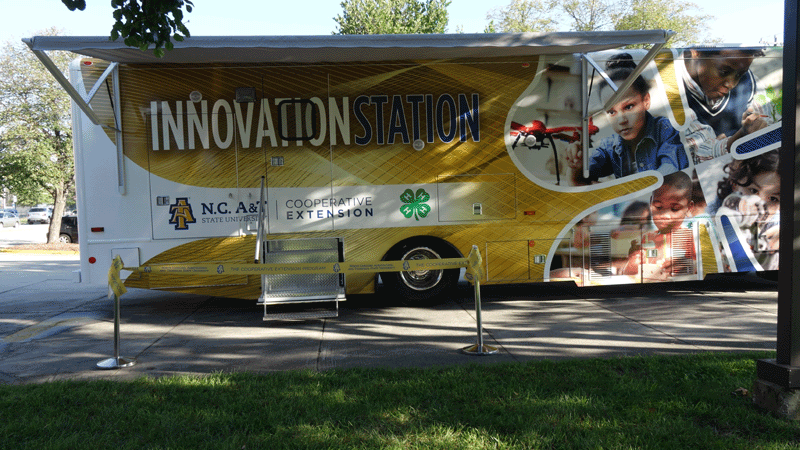 Chancellor Harold L. Martin Sr. will deliver opening remarks to a crowd of event attendees, which will include community leaders, Cooperative Extension partners and 4-H representatives.

Cooperative Extension at N.C A&T delivers educational programs and technology to enrich the lives, the land and the economy of North Carolina's limited-resource individuals, families, and communities.


Ready. Set. NCATHACK! set for weekend
Jordan M. Howse

EAST GREENSBORO – (Oct. 4, 2018) Students from all majors are ready to join North Carolina Agricultural and Technical State University's "NCATHACK!," hackathon this weekend, Oct. 5-6.

The College of Engineering's (COE) computer science department and the Association of Computing Machinery, will host teams of three in the Alumni-Foundation Event Center to compete to solve or 'hack,' problems presented by corporate sponsors such as Cummins Inc., JPMorgan Chase, Nvidia, and SAS.

Successful hacks will have a chance to win prizes, company and university gifts and, of course, bragging rights.

Students from a variety of majors are encouraged to participate in the weekend-long challenge, as teams will need sales, marketing, presentation and coding expertise to successfully compete.

Onsite registration and check-in begins at 4 p.m. Friday, and the competition kicks off promptly at 5 p.m. For more information contact Romell Bolton, ACM President at rrbolton@aggies.ncat.edu.


U.S. Department of Education Announces 2018 National Blue Ribbon Schools

October 1, 2018

The STEM Early College at N.C. A&T was selected as National Blue Ribbon School.

U.S. Secretary of Education Betsy DeVos today recognized 349 schools as National Blue Ribbon Schools for 2018. The recognition is based on a school's overall academic performance or progress in closing achievement gaps among student subgroups.

"I'm pleased to celebrate with you as your school is named a National Blue Ribbon School," said U.S. Secretary of Education Betsy DeVos in a video message to the honorees. "We recognize and honor your important work in preparing students for successful careers and meaningful lives. Congratulations on your students' accomplishments and for your extraordinary commitment to meeting their unique needs."

The coveted National Blue Ribbon Schools award affirms the hard work of educators, families and communities in creating safe and welcoming schools where students master challenging and engaging content.

Now in its 36th year, the National Blue Ribbon Schools Program has bestowed recognition on more than 8,800 schools. On November 7-8, the Secretary and the Department of Education will celebrate with 300 public and 49 private school honorees at an awards ceremony in Washington, D.C.

All schools are honored in one of two performance categories, based on all student scores, subgroup student scores and graduation rates:
•Exemplary High Performing Schools are among their state's highest performing schools as measured by state assessments or nationally normed tests.
•Exemplary Achievement Gap Closing Schools are among their state's highest performing schools in closing achievement gaps between a school's student groups and all students over the past five years.

Up to 420 schools may be nominated each year. The Department invites National Blue Ribbon School nominations from the top education official in all states, the District of Columbia, Puerto Rico, the Virgin Islands, the Department of Defense Education Activity and the Bureau of Indian Education. Private schools are nominated by The Council for American Private Education (CAPE)


Two N.C. A&T Students Receive White House Initiative's Highest Honor

Tonya Dixon

EAST GREENSBORO, N.C. (Oct. 2, 2018) – Two North Carolina Agricultural and Technical State University students have been selected as 2018 HBCU Competitiveness Scholars – a designation of the White House Initiative on Historically Black Colleges and Universities (HBCUs) extended to only 63 students this fall.


Kourtney Smith and Kailyn Price, recently received the initiative's highest student recognition and participated in the 2018 National HBCU Week Conference, in Washington, D.C.


"Being named a White House Scholar is such an honor because I serve as a representative of HBCU students doing amazing things inside and outside of the classroom," said Smith, a public relations student. "My professional goal is to work in diversity and inclusion, specifically to recruit more HBCU students for industries where minorities are underrepresented."


The conference provided great networking and educational opportunities for students to share with their corresponding institutions.


"It was invaluable to begin forming relationships with current students to exchange ideas on how to ensure that the talents of Black students at HBCUs contribute and uplift the communities in which we are integrated," said Price, a junior, bioengineering student.


Comprised of undergraduate, graduate and professional students, Competitiveness Scholars are recognized for successfully preparing to compete for top opportunities that improve long-term outcomes.


Price and Smith were nominated and endorsed by N.C. A&T Chancellor Harold L. Martin, Sr. They were selected among several highly distinguished students based on their academic achievement, campus and civic involvement and entrepreneurial spirit.


Over the course of their one-year term, they will learn and share proven and promising practices supporting individual and HBCU competitiveness; participate in workshops designed to improve leadership; encourage ongoing personal and professional development; and discover areas of innovation and entrepreneurship.


Elizabeth City State University receives $20 million USDA loan

JASON TYSON Director of Media Relations
CHAPEL HILL, NC – University of North Carolina System President Margaret Spellings and Elizabeth City State University Interim Chancellor Karrie Dixon have announced that ECSU and the U.S. Department of Agriculture have agreed to the terms of a $20 million loan that will allow for key improvements to residence halls while replenishing the university's operating and maintenance reserves.

"This USDA loan is a critical step forward for ECSU that builds on extraordinary support from the General Assembly and an all-hands-on-deck effort from the ECSU Board of Trustees, the UNC Board of Governors, and the UNC System Office during the past several years," said UNC System President Margaret Spellings. "These improvements to residence halls will further improve the student experience without increasing the cost of attending. ECSU is doing the hard work to secure the resources they need to enter its next chapter and move Northeastern North Carolina forward."

The pursuit of low-interest federal funding was one of the strategies that came out of the ECSU Working Group that President Spellings convened in the fall of 2016. The agreement is the culmination of an 18-month application process, during which UNC System Office Leadership and ECSU Leadership worked diligently to ensure all requirements for qualification were met.

"We are focused on maintaining the positive momentum that has begun here at Elizabeth City State University. On the heels of our five-year record enrollment numbers, this is yet another example of ECSU implementing strategies that position the University for sustainable growth. I couldn't be more proud of our partners at the ECSU Foundation and my team for their leadership in this effort."

The loan, provided through the USDA Community Facilities Program, includes $10 million to completely renovate a historically significant, 1920's era residence hall, demolish two obsolete residence halls and update the campus master plan. The loan also includes an additional $10 million that will be used to restructure existing debt on Viking Village, one of ECSU's primary residence halls. The $10 million note on Viking Village, which currently has an interest rate near 5 percent, will be refinanced to 3.875 percent to achieve savings and ensure sufficient operating flexibility.

The restructuring of debt through the federal loan will eventually allow ECSU to serve an additional 100 students without increasing existing debt capacity. The announcement of the USDA loan also comes following a recent increase in student enrollment at ECSU, thanks in part to the new NC Promise program, a state-funded initiative which reduces undergraduate tuition to just $500 per semester for in-state students and just $2,500 per semester for out-of-state students. ECSU's total undergraduate enrollment for the Fall 2018 semester increased by 19 percent and new transfer enrollment increased by 57 percent.

"ECSU is a great example of how the Board of Governors is currently working to ensure all our schools are successful," said UNC Board of Governors Chair Harry Smith. "The current Board is focused on the entire UNC System by taking on some of the issues that have been ignored such as the $4-5 billion dollar repair and renovation needs that challenge many institutions' long term sustainability."


Statement from UNC System President Margaret Spellings on Federal Disaster Assistance for Students
JASON TYSON Director of Media Relations

CHAPEL HILL, N.C. – UNC System President Margaret Spellings released the following statement in response to the awarding of $2.8 million by the U.S. Department of Education in grants to financially needy college students affected by Hurricane Florence:

"These grants are greatly needed and will go a long way in assisting students that can least afford to bear the devastating costs caused by Hurricane Florence," said President Spellings. "We will continue to work with state and federal officials to ensure all of our affected students receive the support they need to recover in order to successfully continue their educational pursuits."

U.S. Education Secretary Betsy DeVos announced earlier today that the supplemental funds are being made available from Federal Supplemental Educational Opportunity Grants (FSEOG). The grant money targets 38 institutions located in counties in North and South Carolina designated by the Federal Emergency Management Agency for individual or public assistance as a result of the hurricane.

UNC System institutions included Fayetteville State University, which received $197,528, the University of North Carolina Wilmington, which received $61,147, the University of North Carolina at Pembroke, which received $183,550, and East Carolina University, which received $330,718.

The UNC Board of Governors also approved a proposal that will allow UNC Wilmington to adjust its academic calendar by waiving up to 200 minutes of instructional time for a typical class. UNC Wilmington's plan also includes canceling its upcoming fall break, canceling a "reading day" prior to final exams, lengthening classes by five minutes and providing additional interactions between teachers and students via online platforms.