ABC News' Byron Pitts to Keynote COAACH's 10th Annual Caregiver Education Conference

Tiffanny S. Jones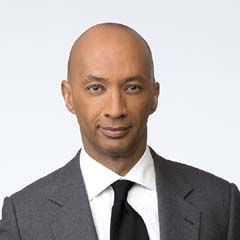 EAST GREENSBORO, N.C. (Oct. 4, 2018) – For its 10th annual Caregiver Education Conference, the Center for Outreach in Alzheimer's, Aging and Community Health (COAACH) at North Carolina Agricultural and Technical State University has called upon veteran, multiple Emmy Award winning journalist Byron Pitts to serve as the keynote speaker.

Beginning at 8 a.m., on Saturday, Oct. 27, 2018, at the Alumni-Foundation Event Center and the Student Health Center, the conference will assist those who play the critical role of caregiver in the lives of their loved ones who are impacted by chronic disease, Alzheimer's and dementia. This year's theme is "10 Years Transforming the Lives of Caregivers … The Journey Continues." The full-day program will feature experts from the health, research and media industries to inform and equip participants with the best approaches to better manage the caregiving responsibilities.

Pitts, co-anchor of ABC News' "Nightline" and ABC News contributor, will speak to caregivers from personal experience of having loved ones affected by dementia.

"Mr. Pitts' late mother suffered from dementia and he has another relative who is currently living with the disease, so, we believe the caregivers will relate to what he has to say," said Grace Byfield, Ph.D., COAACH program manager.

He joined ABC in 2013 and he immediately joined the networks live coverage of the Boston marathon bombing investigation. Since then, Pitts has reported live from Baltimore, Dallas and Baton Rouge during their recent riots and protests. Pitts also played a key role in the network's coverage from the Republican and Democratic National Conventions as well as the first presidential debates in the 2016 election year.

Prior to ABC, Pitts spent 15 years at CBS News where he served as the chief national correspondent for the CBS Evening News and filed regularly for "60 Minutes." Pitts was named the National Association of Black Journalists Journalist of the Year in 2002. His 2009 memoir, "Step Out on Nothing: How Faith and Family Helped me Conquer Life's Challenges," chronicled his journey to overcoming a stutter and illiteracy to achieve success as a journalist. He also penned the book, "Be the One," that profiles six young adults who overcame hardship with hope. Pitts began his career at WNCT-TV in Greenville, North Carolina and has family ties to Apex, North Carolina.

The Caregiver Education Conference is free to all pre-registered participants and includes free lunch, parking, respite care, access to vendors, health screenings and small group sessions to allow hands-on interactive training. Participants who do not pre-register will be charged a $10 fee on the day of the event.

To pre-register, visit the COAACH website or call Terri Long at 336-285-2165 or 888-248-2808. The registration deadline is Oct. 22.
Student Newspaper at N.C. A&T Secures Poynter Project Program Acceptance

Tonya Dixon

EAST GREENSBORO, N.C. (Oct. 11, 2018) – The student editorial staff of The A&T Register have been accepted into The Poynter College Media Project program. The newspaper was one of more than 70 student newspapers to apply and one of nine to be accepted in the year-long program.


"I am very passionate about the criminalization of the Black community, so much so that I find myself educating people about the repetitive cycle," said Alexis Wray, editor-in-chief of The A&T Register. "So, when the faculty of the JOMC department made the program aware to me, I instantly knew what my newsroom could propose a narrower look at the criminalization of my HBCU, N.C. A&T."


Wray is a junior, multimedia journalism student from Crumpler, North Carolina. She has been a staff member since her freshman year.


With Poynter's College Media Project, student media organizations will receive the support they need to elevate their journalism skills and realize their potential to play a critical role as community facilitators in the marketplace of ideas. In return, they will be required to engage in all training activities and provide both active reflection and feedback to ensure the power and reach of the program on their campuses.


The program offers nine independent student media organizations in-person workshops, online teaching and funding, and planning support for a campus project geared toward achieving two goals: improving student journalism and modeling civil dialogue through news coverage and related events.


Elissa Yancey, storyteller, multimedia reporter, award-winning educator and community builder is leading the program. She will be joined by co-leader Fara Warner, a New York-based, award-winning journalist, author, speaker and educator who brings three decades of experience leading teams and projects ranging from traditional print to virtual reality films.


About North Carolina A&T State University

North Carolina Agricultural and Technical State University is the nation's largest historically black university, ranked number one among public HBCUs by U.S. News & World Report. It is a land-grant, higher-research classified university by the Carnegie Foundation and constituent member of the University of North Carolina system. A&T is known for its leadership in producing graduates in engineering, agriculture and other STEM fields. The university was founded in 1891 and is located in Greensboro, North Carolina.

---------------

Philanthropy Hits New Heights for N.C. A&T for Fiscal Year 2018

Todd Simmons

EAST GREENSBORO, N.C. (Oct. 4, 2018) – In the recently completed 2018 fiscal year, supporters of North Carolina Agricultural and Technical State University set a new record for private giving with a total of $15.6 million in donations and pledges to A&T.

The total represented an increase of 6 percent over the previous fiscal year sum of $14.7 million, also a record for North Carolina A&T. The combined total of $30.3 million is by far the largest amount raised by A&T in any two-year span in the university's 127-year history.

"We experienced stronger alumni engagement than N.C. A&T has ever had by way of pledges, scholarship support, outright gifts and more," said Ken Sigmon, vice chancellor for University Advancement. "It is tremendously gratifying to see the Aggie Nation stepping up so enthusiastically to support the continued growth and evolution of this university.

"It speaks to a level of excitement among our most important constituents that is truly inspiring as we reach higher than ever before to bring in private support for A&T."

The record year comes as A&T prepares to publicly kick off a capital campaign on Nov. 1 that has been in the quiet phase for several years. As has been publicly reported, the university has already raised $68 million toward an overall goal of $85 million.

Other philanthropic highlights for FY18 include:
•The university received more than 10,200 individual gifts, a 7 percent increase over the previous year. That included gifts from more than 4,500 alumni, an 8 percent jump over the previous year.
•A&T supporters gave more than $4 million to support endowed scholarships for the second year in a row, while gifts to support current-use scholarships exceeded $3 million. Scholarships are of major importance to the university: Two-thirds of A&T's enrollment comprises students who are the first in their families to go to college, which means family resources to fund their education can be in short supply.
•More than 100 donors made major gifts -- $25,000 or more – in the last fiscal year.

"When we see the level of activity that we did in FY18, it's clear that our donors enthusiastically support the university's mission," said Sigmon. "At a time when many institutions struggle to identify private support, this says great things about North Carolina A&T and the many individuals and organizations who show their affection for the university through their thoughtful generosity."
-----------------

Two N.C. A&T Students Reap Benefits of New Honda, TGMCF Scholarship Partnership

Tonya Dison

EAST GREENSBORO, N.C. (Oct. 4, 2018) - Two North Carolina Agricultural and Technical State University students are recipients of a new scholarship awarded through a partnership with Honda and Thurgood Marshall College Fund (TMCF).

Dymon Atkinson, sophomore engineering student and Marvin Edge, first-generation, business student are receiving the scholarships as part of the annual scholarship fund Honda established earlier this year to support students pursuing an education in engineering, supply chain management and manufacturing-related fields.

Atkinson said the scholarship is helping her get one step closer to achieving her dream. "For as long as I could remember, I've wanted to be an engineer and make a positive impact on the lives of people," she said. "My lifetime career goal is to become an aerospace engineer in the Armed Forces."

Honda established the scholarship fund on the occasion of reaching a major milestone in America – the production of its 25th million automobile in the United States. The company began auto production in Ohio in 1982, the first Japanese automaker to produce cars in the United States.

"Honda is pleased to support these impressive students, who we hope will become part of the future of manufacturing in America," said Yvette Hunsicker, vice president of the Office of Inclusion and Diversity at Honda North America, Inc. "This is just the beginning of a wonderful collaboration between Honda and the Thurgood Marshall College Fund that will support deserving students and help increase opportunities in the important field of manufacturing."

"Expanding our partnership with Honda made perfect sense because of our shared commitment to helping HBCU students pursue both their academic and professional dreams," said Dr. Harry L. Williams, president & CEO of Thurgood Marshall College Fund. "We are excited to see where the road of opportunity will take these five scholars and so many more, thanks to our Honda-HBCU partnership.

In addition to Atkinson and Edge, Honda and TMCF awarded scholarships to three additional students from historically black colleges and universities, including University of Maryland Eastern Shore, Tennessee State University and Alabama A&M University.

In order to qualify for the scholarships, students must be enrolled as a full-time student at one of the 47 TMCF member-schools; earn a cumulative GPA of 3.0 or higher; demonstrate leadership qualities and community service experience; and be recommended by a faculty or staff member of their current school.

In addition to financial support, scholarship recipients will be invited to interview for internships and co-op positions at one of 12 facilities in America where Honda manufactures vehicles, engines, transmissions, as well as aircraft, aircraft engines, power equipment and side-by-side and all-terrain vehicles.


From Honda's involvement in STEM education and Historically Black Colleges and Universities (HBCU) to its support of pediatric brain tumor research and volunteer efforts by Honda associates, including environmental clean-up activities, Honda believes in giving back to the communities where its associates live and work.


Established in 1987, TMCF is the nation's largest organization exclusively representing the black college community. TMCF member-schools include publicly-supported historically black colleges and universities and predominantly black institutions, enrolling nearly 80% of all students attending black colleges and universities.

-----------------

N.C. A&T Atmospheric Chemistry Researchers Receive $1 Million Grant

Jordan M. Howse

EAST GREENSBORO – (Oct. 4, 2018) It is estimated that Africa produces more than half of the world's biomass burning smoke from biomass fuels and animal dung, where it's used for cooking and heating homes. Despite Africa and other tropic regions' high contribution to biomass burning emissions, relatively few studies have been done on the effects of specific emissions on global health and climate.

North Carolina Agricultural and Technical State University researchers will receive $1 million grant from the National Science Foundation (NSF) to study the climate and health impacts of biomass smoke, combustion emissions and sub-Saharan Africa and Saharan dust mixed with biomass smoke.

Research will be led by N.C. A&T professor Solomon Bililign, Ph.D., and co-principal investigator Marc Fiddler, Ph.D. The team will look at the optical properties of biomass smoke, as a function of relative humidity and the health implications of the smoke.

"Household pollution from biomass burning contributes to nearly three million premature deaths per year," Bililign said. "Having a better understanding of what the health impacts of pollution due to biomass burning should help mitigate and improve household burning conditions in the developing world."

Bililign and his team of undergraduate and graduate researchers will collaborate with Colorado State University in field research and modeling of health impacts and Howard University to collect filter samples on aboard maritime research platforms on NOAA ships on the Atlantic Ocean.

The grant is for three years through 2021.

The overall goals of the project, "HBCU-Excellence in Research: Radiative Effects of Biomass Burning Aerosols Laboratory and Field Measurements and Modeling of Climate and Health Impacts," are to understand the chemical composition and optical properties of biomass burning aerosols, quantifying and understanding various biomass emissions and emission factors to understand their impact on global climate, air quality and human health.

"Because of this grant's emphasis on research excellence at HBCUs, this project will directly increase the number of minority students trained in atmospheric science both in field and laboratory research," Bililign said.

Bililign and Fiddler previously received NSF funds to build an indoor smog chamber study optical properties of biomass burning emissions as they photochemically change and collaborated with UNC-Chapel Hill Department of Environmental Science and Engineering scientists to conduct chemical analysis of the aerosols obtained from the smog chamber.

This project will also allow A&T faculty and students to be part of a major field campaign to study wildfire emissions in collaboration with NSF's National Center for Atmospheric Research, National Oceanic and Atmospheric Administration and NASA Aerodyne company and other universities in 2019.

-------------------

N.C. A&T CoST Awarded $1.3 million from NIH for Biomedical Graduate Training


Jordan M. Howse

EAST GREENSBORO, N.C. (Oct. 4, 2018) -- North Carolina Agricultural and Technical State University's College of Science and Technology (CoST) has been selected for the Bridges to the Doctorate research training award of $1.3 million over a five-year period.

The award from the National Institute of Health allows for a partnership between CoST's master's programs in computational biology and computational science and engineering and University of North Carolina at Chapel Hill's doctorate programs in the same fields.

N.C. A&T is the only historically black college or university selected for the award.

The Bridges to the Doctorate program is designed to help students make the transition from master's degree programs to doctorate programs. The award will expand the pool of underrepresented students who remain in the bioinformatics and biomedical sciences through the doctorate level and increase the number of students who go into research careers, said Patrick Martin, assistant dean of CoST and principal investigator for the program at A&T.

"This program helps us make graduate students more competitive to enter top tier doctoral programs in the country," Martin said. "Jobs in these fields are in high demand in industries like Google, IBM and health and insurance providers."

Bridges to the Doctorate allows CoST to select three students each year for the program. Once designated, the three students are paired with mentors at A&T and UNC.

Along with mentors, special curriculum will be designed for students in the Bridge to the Doctorate program with cross-training in biomedical and computational sciences and engineering. They also will have the opportunities for professional development to take courses at UNC during their master's program.

Dukka Kc, Ph.D., is a co-PI in addition to UNC's Michael Jarstfer, Ph.D. Other participating institutions include University of California-Los Angeles, University of Kentucky, University of Illinois at Chicago and Vanderbilt University Medical Center.

-------------------

Two N.C. A&T Students Receive White House Initiative's Highest Honor

Tonya Dixon

EAST GREENSBORO, N.C. (Oct. 2, 2018) – Two North Carolina Agricultural and Technical State University students have been selected as 2018 HBCU Competitiveness Scholars – a designation of the White House Initiative on Historically Black Colleges and Universities (HBCUs) extended to only 63 students this fall.

Kourtney Smith and Kailyn Price, recently received the initiative's highest student recognition and participated in the 2018 National HBCU Week Conference, in Washington, D.C.

"Being named a White House Scholar is such an honor because I serve as a representative of HBCU students doing amazing things inside and outside of the classroom," said Smith, a public relations student. "My professional goal is to work in diversity and inclusion, specifically to recruit more HBCU students for industries where minorities are underrepresented."

The conference provided great networking and educational opportunities for students to share with their corresponding institutions.

"It was invaluable to begin forming relationships with current students to exchange ideas on how to ensure that the talents of Black students at HBCUs contribute and uplift the communities in which we are integrated," said Price, a junior, bioengineering student.

Comprised of undergraduate, graduate and professional students, Competitiveness Scholars are recognized for successfully preparing to compete for top opportunities that improve long-term outcomes.

Price and Smith were nominated and endorsed by N.C. A&T Chancellor Harold L. Martin, Sr. They were selected among several highly distinguished students based on their academic achievement, campus and civic involvement and entrepreneurial spirit.

Over the course of their one-year term, they will learn and share proven and promising practices supporting individual and HBCU competitiveness; participate in workshops designed to improve leadership; encourage ongoing personal and professional development; and discover areas of innovation and entrepreneurship.