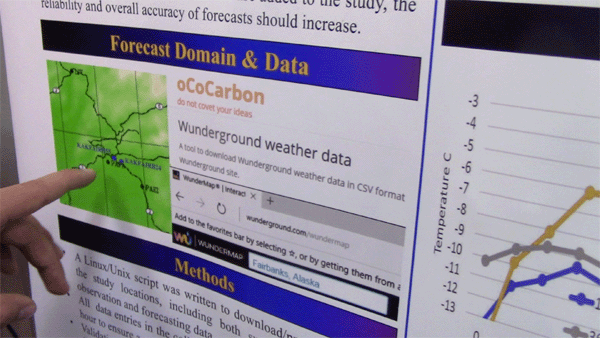 N.C. A&T Researchers investigate winter pollution levels in new study; could affect emission policies

Jordan M. Howse

EAST GREENSBORO, N.C. (July 23, 2018) – While several studies of summer air quality have led to tighter emission standards and significant reductions in pollution, new research on winter air shows why pollution levels remain somewhat stagnant in wintertime and suggests that more aggressive emission standards could be necessary.

Professor Solomon Bililign, colleague Marc N. Fiddler and doctoral student Jaime Green comprise North Carolina Agricultural and Technical State University's Atmospheric Physics and Chemistry research group, and they collaborated on the study led by researchers at the University of Washington. The team's research explored the formation of pollution particulates containing sulfate and nitrate in the wintertime, when they are produced more slowly, but spread over larger geographic areas.

The findings of the study were published the week of July 23 in the Proceedings of the National Academy of Sciences in an article co-authored by Bililign, Fiddler and Green.

"Studies have looked at emissions and particulate matter in summer conditions, but there was relatively little research on what they look like in the winter," said Bililign, who led the N.C. A&T group.

When people around the world are exposed to fine particulate matter, their chances of premature death and illness increases substantially, he said. Emission reduction standards have lowered the concentrations of sulfate and nitrate except for in wintertime.

Researchers from UW, N.C. A&T, Georgia Institute of Technology, University of Colorado Boulder, Colorado State University spent six weeks the winter of 2015 conducting their research in a C-130 aircraft operated by the National Science Foundation (NSF) and National Center for Atmospheric Research.

The 2015 Wintertime Investigation of Transport, Emissions, and Reactivity (WINTER) project sampled urban and industrial plumes of nitrogen, oxides, volatile organic compounds, emissions from coal-fired power plants, distributed emissions from oil and gas extraction, agricultural or biofuel burning throughout the eastern United States. The N.C. A&T team focused on measuring sulfur dioxide emissions.

The study found that pollutants follow a different chemical path in the colder temperatures and that sulfur dioxide is slower to dissipate from the atmosphere during wintertime.

"The longer the lifetime, the longer it hangs around in the air, and the farther it can travel downwind," Fiddler said. "If it doesn't encounter any clouds, it can last up to a month and travel as far as Europe."

The study was funded by NSF with significant in-kind support from the National Oceanic and Atmospheric Administration's Earth System Research Laboratory.

The lead author of the article is Viral Shah from UW. Other co-authors represent University of Colorado, Colorado State University, Georgia Institute of Technology, National Center for Atmospheric Research, and NOAA Earth Systems Research Lab.
The researchers hopes the findings of the research they assisted with will help with larger emission reductions, especially during winter, to improve air quality in the eastern U.S. and around the globe.